Tire Alignment Service in Elkhart, IN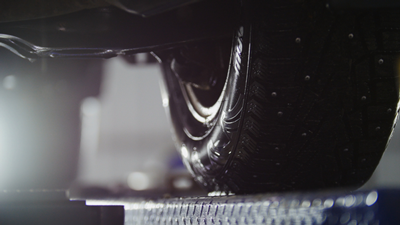 Affordable Tire Alignment Service in Elkhart, IN
Staying on top of routine maintenance for your vehicle can already be a chore: there's oil changes, wiper fluid refills, tire rotations, and more to stay on top of. But vehicle maintenance gets even trickier when it's difficult to tell that there's something awry. Even drivers with years and years of experience have trouble knowing when their vehicle needs an alignment. Thankfully, the expert technicians at Tom Naquin Nissan will be able to step in and tell you with certainty that your vehicle could use an alignment service.
When the suspension system of your vehicle is out of proper alignment it begins to cause unnecessary damage to your tires, and could lead to more issues if left untreated. Only a trained service technician will be able to align the suspension again, but have no fear: our service center staff is expertly trained to fix problems exactly like this.
Our technicians will inspect your vehicle thoroughly and let you know if alignment is in order. If it is, they'll get the work done fast and have you back on the road as quickly as possible.
We know that surprise automotive maintenance costs can put a dent in even the best budgets, which is why we're always updating and rotating our service specials to help you save money on importance maintenance. We work hard to make our services affordable and convenient, so we offer service appointments as early as 7:30 a.m., six days a week for your convenience. Book an appointment online today at any time convenient to you.
How Can You Tell When Your Car Needs An Alignment Service?
As we've mentioned, it can be very difficult for even seasoned drivers to tell when their vehicle may need an alignment. However, there are a few signs you can be on the lookout for that may indicate it's time for an alignment. Check for excessive, uneven wear on the tread of your tires and/or a tendency to pull to one side or the other when you're driving straight ahead. These symptoms should alert you that your vehicle is in need of an alignment inspection.
Schedule Alignment at Tom Naquin Nissan in Elkhart, IN
When scheduling maintenance is as easy and affordable as it is at Tom Naquin Nissan, you won't have to procrastinate necessary auto care any longer. Staying on top of routine maintenance is the best, and easiest, way to ensure your vehicle runs well for miles to come and to keep you safe on the road. Schedule service online today and let our team take care of the rest. The peace of mind you'll feel knowing you're driving safe is priceless.